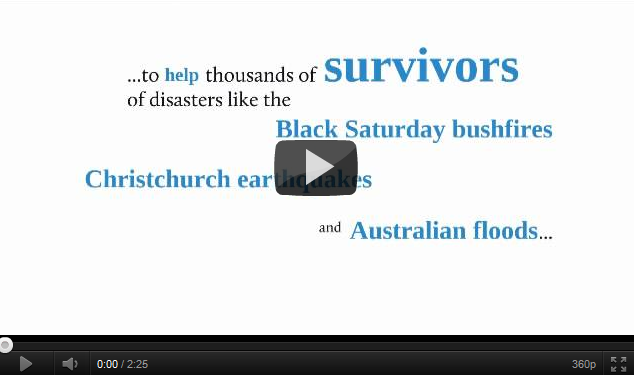 If Sir Richard Branson were embarking on a project to meet someone like, well, Sir Richard Branson, how would he go about it?
In the 4-Hour Work Week, author Tim Ferris issued a challenge. Find a way to make contact with someone you thought you might not be able to meet.
I've always wanted to meet Sir Richard to talk about social change to help millions of the world's hungriest people and an idea for the widespread reduction of greenhouse gas emissions.
Is it possible to achieve a highly ambitious goal by concentrating your energy and focus on it? I'm about to find out.
Join me on my journey (you can follow it at www.madwoman.com.au) as I set out to meet a business legend.
So why might Sir Richard want to meet me?
I'm a passionate and determined social entrepreneur who runs m.a.d.woman (the m.a.d. bit stands for making a difference).
m.a.d.woman was set up to get people doing good for each other and their communities and to help people in need. m.a.d.woman events enable thousands of people to help hundreds of thousands of others.
I know that both Sir Richard and Tim Ferriss will be visiting Melbourne on 21 October. They'll be speaking at a big event here with speakers including Jamie McIntyre, Eddie McGuire and Jeff & Kane and I need to find a way to stand out from the crowd (and I'm not so keen on trying the bikini or a hot air balloon approach).
I'm more the sort of lass who sleeps on the streets four times in two years in Australia and New Zealand to raise money to end homelessness (thanks Virgin Australia for sponsoring my last trip!).
I'm the kinda gal who motivates people to cook tens of thousands of meals for the homeless, to help thousands of survivors of disasters like the Black Saturday bushfires, Christchurch earthquake and Australian floods, support disadvantaged children and their families and many other people and animals who could use support.
So how do you think Sir Richard would go about trying to meet the likes of Sir Richard? If you think you can help m.a.d.woman on this journey to meet an inspirational icon, please be in touch…
P.S. Since putting the word out, I'm off to a great start – I've been given some spare tickets to the 21 October event that features Sir Richard, Tim Ferriss and other inspirational speakers.

If you'd like to join me on my journey, post your bid here for why I should let you have them. The most compelling will get the tickets! (You'll need to also sign up at madwoman.com.au so I have your details to get them to you).
Check out more of Melina's blog posts for The Pulse here.